Portable Aluminum Stage Mobile Truss Stage Wooden Platform Stage for Event
Frame material
Aluminum 6061-T6

US Standard Portable Stage

EU Standard Portable Stage
Platform size
4'x4'/4'x8'
1m x1m /1m x2m
Height options

16''/24''/32'',24''/32''/40'',

32''/40''/48'',40''/48''/52''

0.4m/0.6m/0.8m, 0.6m/0.8m/1.0m, 0.8m/1.0m/1.2m,

1.0m/1.2m/1.5m, 1.5m/1.7m/2.0m

Platform material
laminated plywood 18mm / Toughened glass / Plexiglass / carpet / rubber /etc.
Aluminum Frame tube
Main tube: 50*3mm Brace tube: 25*2mm
Platform color
Red / black / brown, etc.
Adjustable height
0.4m-0.8m, 0.6m-1.0m, 0.8-1.2m, 1.0m-1.5m, 1.2m-1.6m, 1.5m-1.8m, 1.6m-2m...
Stage shape
Rectangle, square, T-shape, round; custom-made available
Optional accessories

Guardrail, step-stair, ramp, aluminium platform trolley, dolly, skirts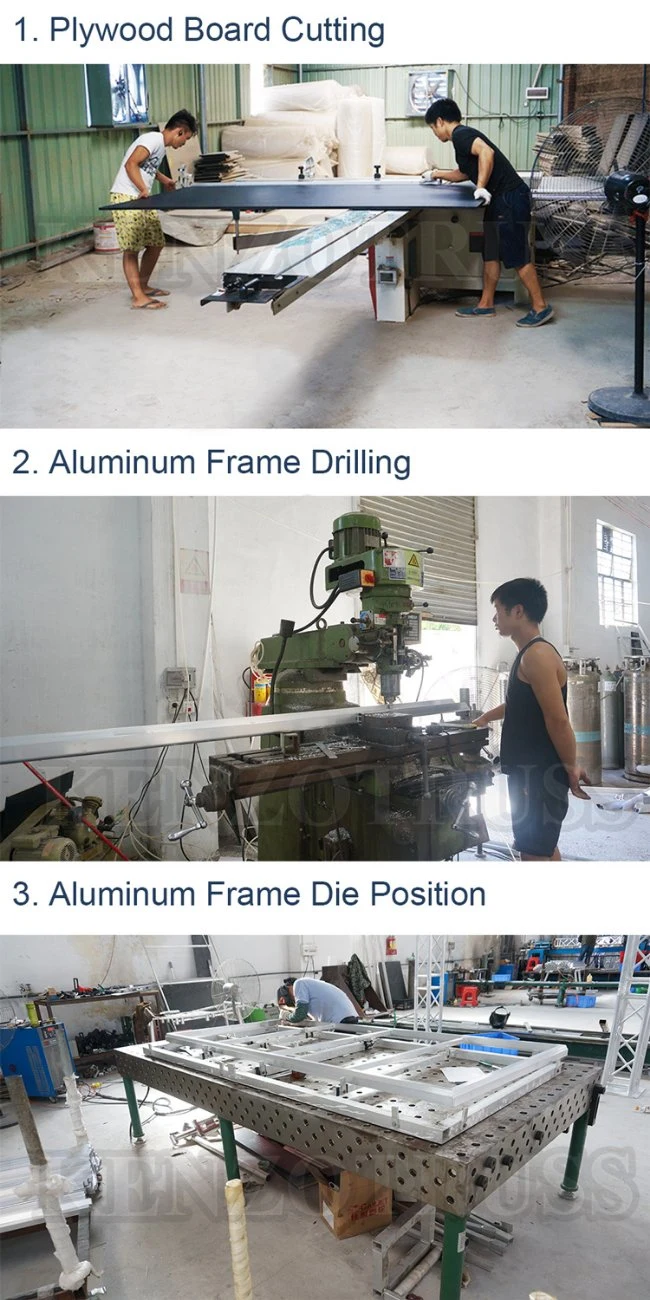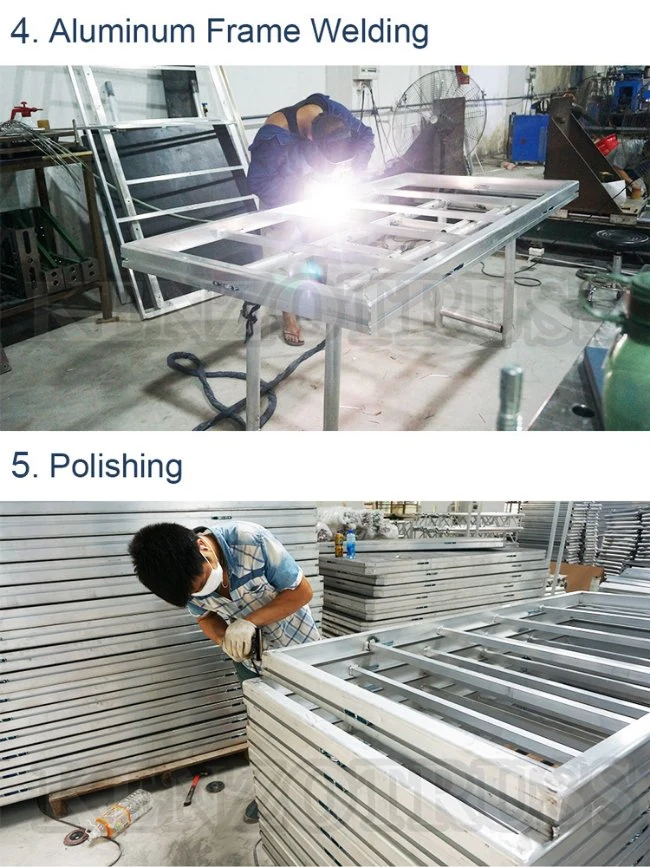 TUV Load Test Report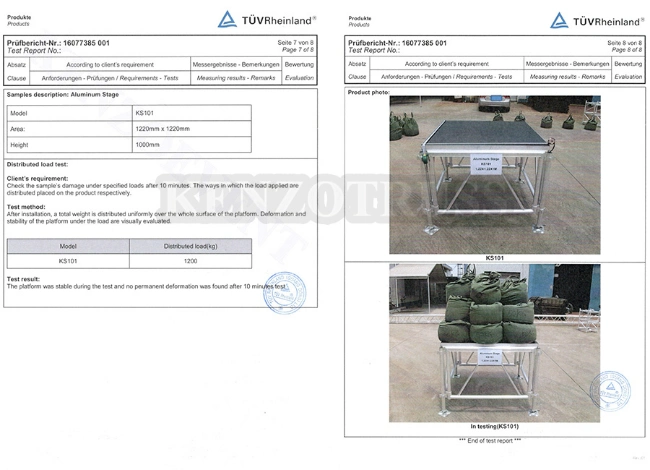 Our Advantages
We have rich experience in aluminum stage truss industry.

We have strict quality control procedures and professional after-sales guidance services.

All products can be OEM and meet your requirements.

We can provide free drawings of design with you for your special request. And you can enjoy




long-term technical advice from our enginnering designers who buy our products.

We will assemble and test all products before delivery.

Favorable price---with competitive price under the assurance of quality.

Features of stage components

Platforms:
• Lightweight and compact for easy setup, transport and storage.
• Water resistant Industrial finish.
• An aluminum lattice structure construction with a weight capacity of up to 800 KGS/sq. meter.

Legs:
• Lightweight legs can be adjusted at 24, 32, 40 or 48 inches (60, 80 100 and 120cm) using interchangeable leg extension tubes.
• Legs are shared between adjacent platforms.
• Accessories such as rubber mats, slope adjustment wedges and spikes for soft ground and slope applications are available.

Side Braces:
• Lightweight and strong tubular aluminum construction.
• Side Braces are shared between adjacent platforms.

Stage Components Details
1. 18mm plywood with anti-slip laminated surface, and aslo covered by waterproof and fireproof paint on the whole surface. Black and red for option.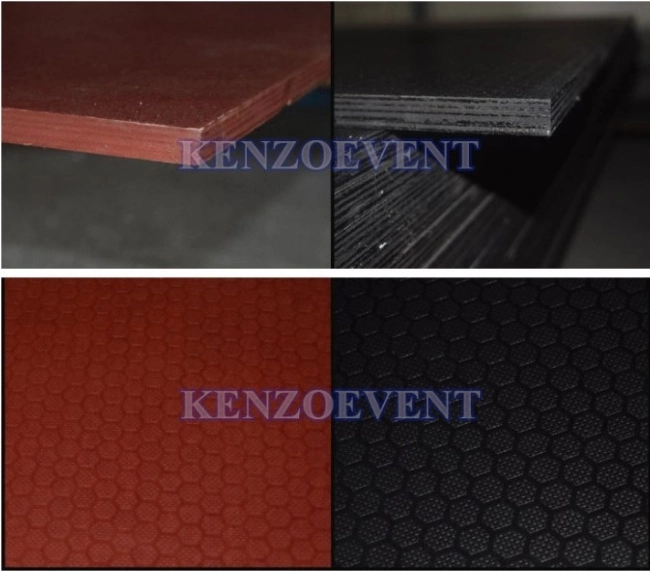 2. Strong back frame design allows our stage has a excellent load capacity of 800 kg/sq.m.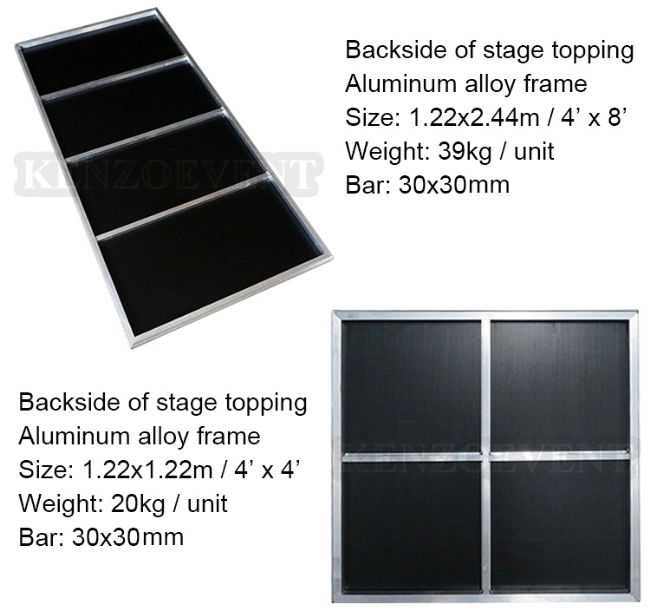 3. 3mm wall thickness aluminium tube for the stage leg.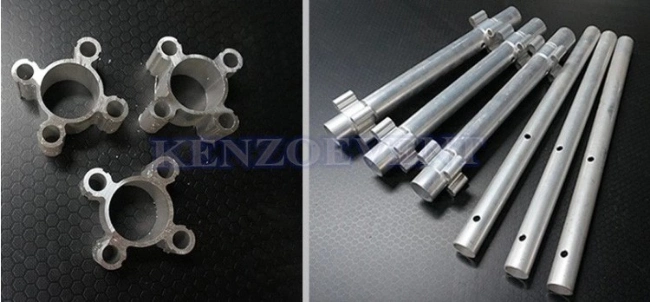 4. Aluminum pin and stainless steel cotter prolong the stage service life.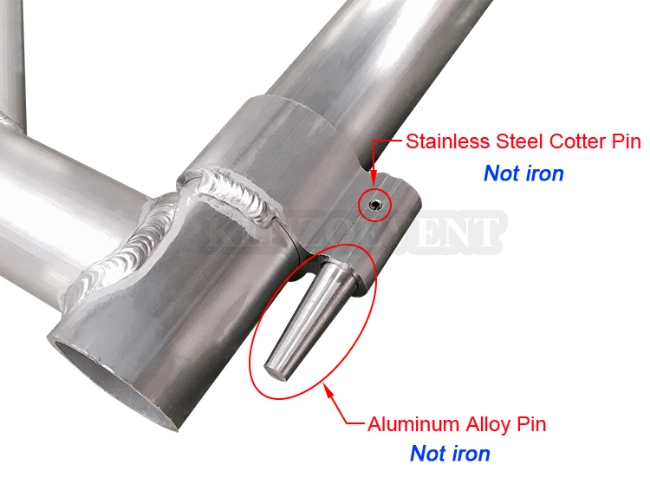 Other Kind of Stage We Have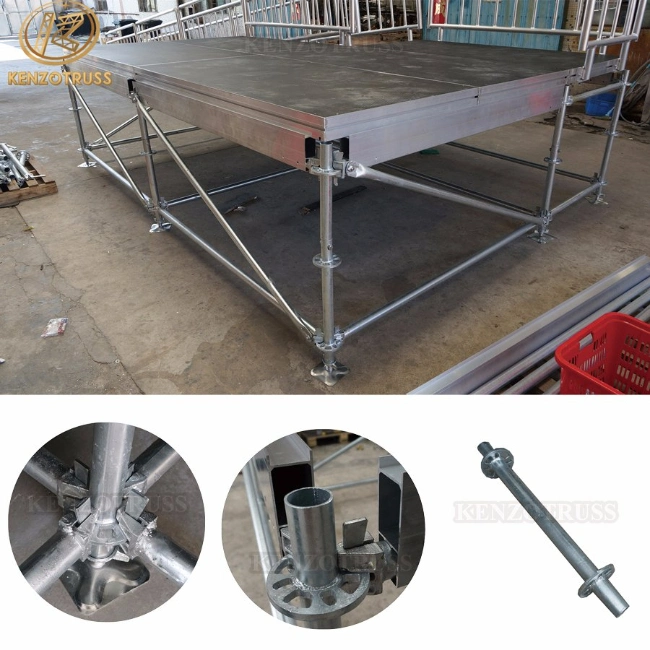 FAQ

Mr. Robert: What frame you make for 4ft*4ft stage flooring ?
A: Cross frame for 4ft*4ft stage deck. And cross frame use 30x40mm square tube, which is quite stronger!
Mr. Ganesh: I want good quality stage, stage leg what size mm pipe? And what height
options are available ?
A: 50x3mm, pls see details as below picture.
Euro Standards : 40-80, 60-80-100, 80-100-120cm, 100-120-140cm and so on.
American Standards: 16"- 24, 24"- 32"- 40", and 32"- 40"- 48" , 40"- 48"- 52".
Stage legs have inter pipe which is used to adjust the height of stage.

Who are we ?

Guangzhou Kenzo Performance Equipment Co.Ltd is a Trading company / manufacturer of alu truss,
mobile stage, scaffolding, layer truss, flight case, crowed barricade as well as seating system and so
on with well-equipped testing facilities and strong technical force.
We supply all the essential items that a school or college would require for a multi-use stage project.
We have a large selection of decking products with different surface finishes, custom leg sizes, clamps,
safety barriers and access steps or ramps. Ideal for use in drama or musical productions, yet versatile
enough to be used for sporting events or even general presentations.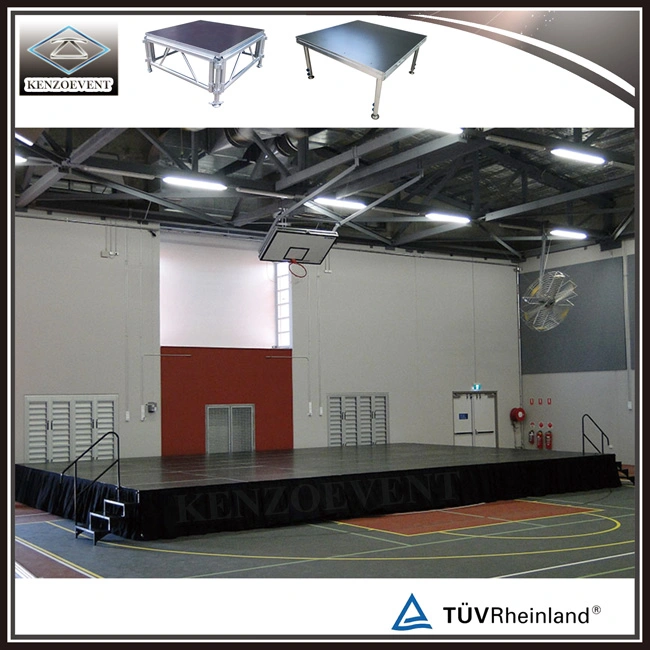 Ideal for elevating choirs or for creating a riser to speak from, we have supplied many houses of worship
with stage systems, both portable and permanent installation, and they are ideal for in-house bands too,
providing an elevated platform for good sound projection and visibilty to the whole room.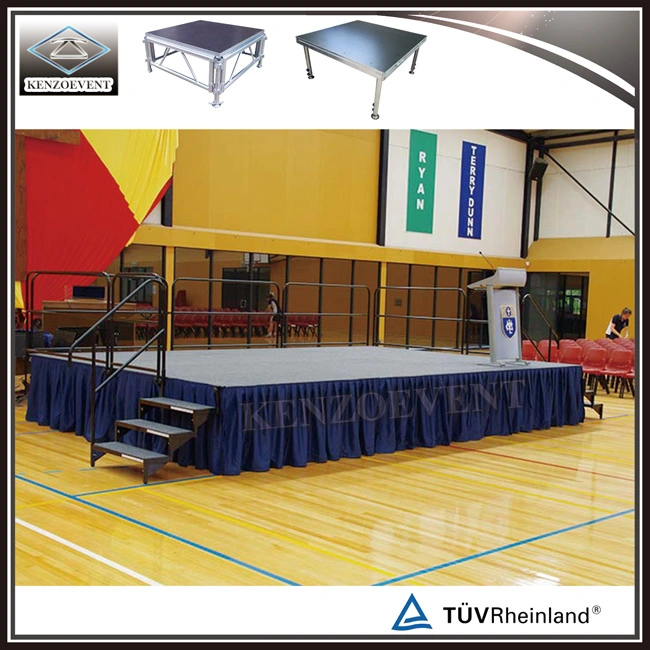 Dance Studios, Fashion shows and catwalks, Award ceremonies and conferences, the usage of high
quality stage and deck units is paramount to the core of a successful event. Whether used just as they
come, or painted, fabric wrapped or carpeted, they are the key element in transforming a singular level
environment into something else entirely. Acrylic glass or semi-transparent top surfaces can be ordered
to allow for underlighting effects and image projection, with metal grating tops also available to allow
smoke and fog usage.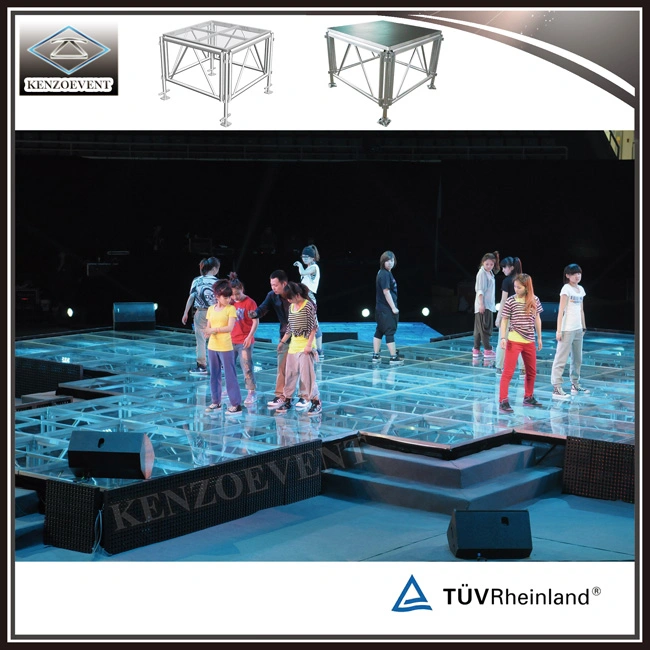 We can supply event stage solutions for any size of requirements, from a basic systems to full canopy
roof structures for large stages to protect your performers. Our range also includes barriers and crowd
control, and cable management systems, offering you a complete package. In short we can supply
everything required to produce a large touring stage system.