THE INDUSTRY LEADING CHINESE MANUFACTURER

Optraffic's amber/color variable message signs are made to the highest quality standards in our ISO9001 certified manufacturing facility. You can design and create any colorful traffic message with graphic symbols, text or graphics combined, make multiple message screens and even create simple animations with amber or 5 colors.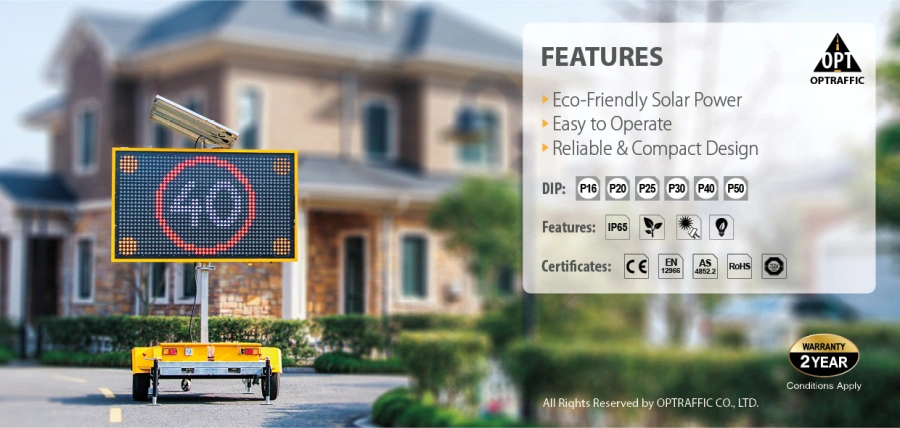 Optraffic's amber or color traffic use variable message signs are manufactured with innovative technology popularly used for traffic management, council & constructional engineering, mining industry, store advertising and public notice of upcoming events like large meetings and sport events.
SIZE

DISPLAY SIZE

mm(in.)

TRAILER SIZE

mm(in.)

HEIGHT

mm(in.)

DISPLAY

WEIGHT

TRAILER

WEIGHT

A

1560(61.4")W

990(39.0")H

3030(119.3")L

1700(66.9")W

2390(94.1") ~

3390(133.5")

100kg

(220lbs.)

400kg

(880lbs.)

B

2390(94.1")W

1470(57.9")H

3800(149.6")L

2050(80.7")W

2600(102.4") ~

4270(168")

180kg

(396lbs.)

650kg

(1430lbs.)

C

2600(102.4")W

1600(63.0")H

3800(149.6")L

2050(80.7")W

2630(103.5") ~

4400(173.2")

200kg

(440lbs.)

650kg

(1430lbs.)

A multiple of Variable Message Signs SIZES and OPTIONS are available.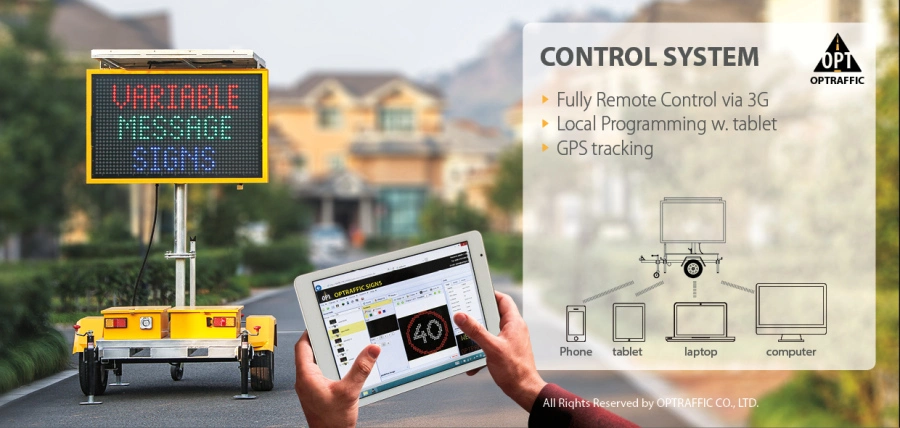 Machinery & Structure
Dia 50mm(2") tow couplings can be towed by most vehicles

Hydraulic mast lifting system allows one person to easily raise and lower the board.

Solar panels rotate 360 degrees for vms optimal positioning

Double disk brakes hold variable message board in place during operation

Y supports stabilize vms boards in travelling position

Hot-galvanized steel structure, anti-corrosion for 20+ years
System & Operation
Amber/five-color full-matrix display

Full remote control via phone/laptop/tablet/computer with OPT software

OPT VMS local control software for on-site programming with tablet/laptop

Light Sensor (Auto dimming system) & Temperature Sensor

Preprogrammed display frames unlimited

Both individual letters' font color and size controllable

High-legibility LEDs

GPS tracking system

Real-time vms device status

SMS alert system

Optional Radar (Variable Speed Limit Warning)
Safety & Energy-Saving
Low power dissipation

Energy-efficient operation

Environmental Friendly Solar Power System

Continuously working throughout the year under normal weather conditions

Auto-charger shuts down when batteries are fully charged, preventing damage

AC 240V external battery charger for power point charging

Cooling fans prevent overheating

Safety lock: Wheel, battery box and control box.
Maintenance & Warranty
2 years quality warranty

Easy maintenance due to modular design

NOT ANY ONGOING CHARGES for software using and updating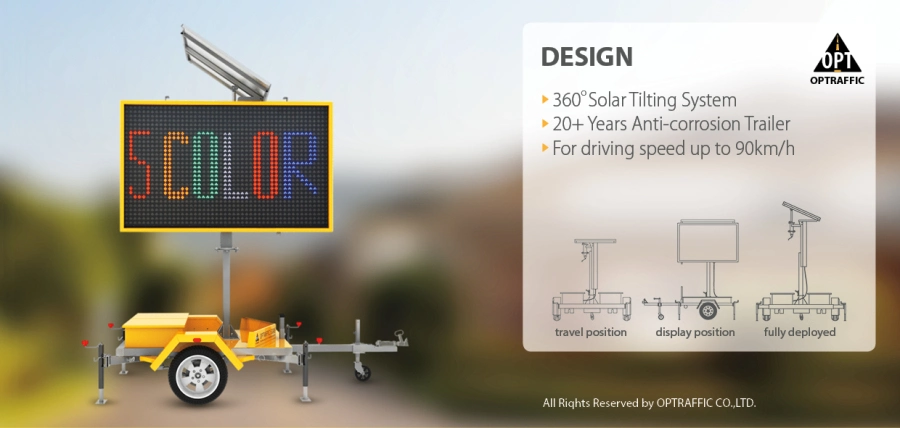 OPT amber/color variable message signs trailers are all wind-loading approved, double layers trailer allows to be forklifted, and also heavy duty standard couplings allows our VMS to be towed by most vehicles, OPT variable message signs must be your best choice for using outdoors.

Amber/color traffic variable message signs supplied by OPT are available both for full remote controlling and on-site programming via phone, tablet, laptop and computer, OPTRAFFIC provides easy-to-operate software, and supply most convenient service to our esteemed customers.